Schöneberg: Bavarian quarter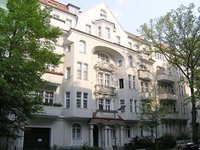 By Frank Tetzel
"Schöneberg is not as lively as other Berlin districts. In the Bavarian Quarter you will encounter the Jewish past at every turn."
"Of course, living in Schöneberg is not as "in" as living in the Mitte, Prenzlauer Berg or Friedrichshain districts of Berlin. But our decision to move to a quiet, yet central district of Berlin was made consciously. The proximity of Kurfürstendamm and Tauentziehn with its shops, cafés, cinemas and other amenities combines with the almost small-town tranquility of a self-contained residential area. The Bavarian Quarter lies between KaDeWe in the north and Hauptstrasse in the south, between Bundesallee in the west and Martin-Luther-Strasse in the east. It's easy to forget the eventful past when strolling past the quarter's plastered facades. Every morning when I go to get some rolls, I am reminded of the darkest chapter in the German past. And almost right on my doorstep. Sometimes I walk carelessly, sometimes attentively past a "stumbling block" in Bamberger Straße, which Günter Demnig, who was born in Berlin and lives in Cologne, has let into the sidewalk. This action by the artist, now well known far beyond Germany, is intended to commemorate the Jews who used to live here in the apartments. Until they were deported and murdered by the Nazis. "A person is only forgotten when his name is forgotten," says Gunter Demnig.
Jewish Switzerland
"The "Bavarian Quarter" was built shortly after the turn of the century and was a special kind of district. Street names such as Munich, Passauer, Regensburger Strasse and Bayerischer Platz gave it its name. The residents – as the old Berlin address books indicate – were usually lawyers, doctors, civil servants, business and merchants and other well-heeled citizens. The proportion of Jewish citizens was unusually high until 1933. The Berlin vernacular also called this area "Jewish Switzerland". I myself was convinced that eight Jewish families lived in our house in 1933. Sometimes I get a queasy feeling when I think about the fate of the people who know their lives lost in Auschwitz or in another concentration camp. What was it like when they were picked up? What may the housemates have noticed? Even through our thick oak entrance doors you can hear when people are chatting in the hallway. Didn't you really know anything? The fact is that more than 16,000 Jewish citizens lived in Schöneberg in 1933. A large number of them, exact figures are not known, lived in the Bavarian quarter. At the end of February 1943 there were raids and arrests in the neighborhood, in June 1943 the quarter was then "free of Jews".
Memory through a nationwide monument
Today, 80 plaques on lampposts in our district commemorate the exclusion, displacement and annihilation of the Jewish population. And when you look at the signs, you still catch your breath: "The supply of meat, meat products and other allotted food to Jews is being stopped. September 18, 1942 "," Jews no longer receive eggs. June 22, 1942 ", or" No fresh milk for Jews. July 10, 1942 "can be read here. Above all, the gradual deprivation of rights of people beginning in 1933, which was expressed in many small everyday measures, is striking. This nationwide monument is called "Places of Memory in the Bavarian Quarter – Exclusion and Disenfranchisement, Expulsion, Deportation and Murder of Berlin Jews from 1933 to 1945″ and encompasses the entire district."

Exodus of famous people
The exodus of the intelligentsia from the neighborhood began with the Nazis. Albert Einstein lived at Haberlandstrasse 5 from 1918 until his emigration in 1933. The Berlin City Councilor and Prussian Minister Rudolf Breitscheid lived just a few houses away. Egon Erwin Kisch, the raging reporter, and the writer Gottfried Benn, Kurt Pinthus and Inge Deutschkron, who later went underground and survived, as well as the politician Eduard Bernstein also lived in this quarter.
An ampoule is depicted on one of the plaques of the monument. The quote on the back of the board comes from a police report: "On April 1, 1943, the district was informed that the Jew Professor Alex Israel C., born October 29, 1991 in Berlin, Berlin W 30, Barbarossastr. 52 lived, committed suicide in his apartment by taking sleeping pills. "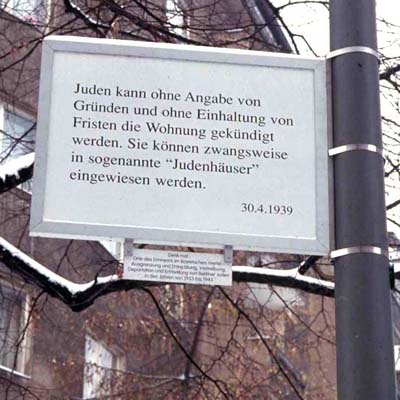 Bavarian quarter
Getting there:"Wittenbergplatz" underground station with the U2 or over
"Bayerischer Platz" underground station with the U7
Stumbling blocks:
For 95 euros everyone can sponsor the production and laying of a "stumbling block". Further information at www.stolpersteine.com , or by email: info@stolpersteine.com
Recommended literature:
Renata Stih & Frieder Schnock
"Places of Memory in the Bavarian Quarter, Volume 1. Place of remembrance."
4th edition, reprint
Haude & Spener, Berlin 2002
ISBN: 978-3775904735
7.50 euros
District Office Schöneberg
"Places of Memory, Volume 2. Jewish everyday life in the Bavarian Quarter."
Edition Hentrich Druck, Berlin 1995
ISBN: 978-3894681470
Thomas Levenson & Yvonne Badal
"Einstein in Berlin. The Berlin years 1914-1932. "
Bertelsmann, Munich 2005
ISBN: 978-3570122891
24.90 euros
Dieter Hoffmann
"Einstein's Berlin. On the trail of a genius. "
Wiley-VCH Verlag, Weinheim 2006
ISBN: 978-3527405961
19.90 euros

The literature is in stock at:
Bookstore Bayerischer Platz
(Successor of the Jewish bookstore Benedict Lachmann)
Grunewaldstrasse 59
10825 Berlin
Tel: 030 – 7821245
Fax: 030 – 78713693
www.buchladen-bayerischer-platz.de
contact@buchladen-bayerischer-platz.de
A tour of the Bavarian Quarter with Gudrun Blankenburg is also recommended. Born in Berlin, she has lived in the district for decades and as a librarian is curious and questions everything.
The tours last about two hours and are carried out in any weather. Registration is not required.
Participation fee: 8.00 euros per person
Appointments can be requested from Ms. Blankenburg on Tel: 0171 – 9815093.